Support the Lake Union Park Floating Market Aboard the Historic Steamship Virginia V!

The Lake Union Park Floating Market is perhaps one of the most unique farmers markets in the country. Held aboard the historic Steamship Virginia V, this market provides a way to help preserve maritime history while connecting people with local growers and food producers.
The Virginia V is the last of her kind. Originally built to carry farm products from Puget Sound ports to Seattle's Pike Place Market, the Virginia V still stands proud after 90 years. It takes a substantial amount of effort each year to maintain her wooden hull and century old steam engine. We believe the the Floating Market and other FarmBoat activities will eventually sustain the financial needs of the Virginia V. However, while the FarmBoat Market program is being developed, we need you help! Donated funds will be used for promoting and establishing this new market.
Here's
How You
Can Help

Please make out a check to:

"Virginia V Foundation"

Mail to:

Be sure to write out your check to Virginia V Foundation as they are a 501(c)(3) non-profit organization which means that your donations are tax deductible. If you have any questions, please don't hesitate to contact us.
---
Lake Union Park Floating Market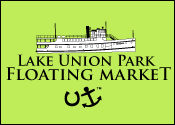 The Lake Union Park Floating Market will be held on Thursdays from 11-3 PM at the Lake Union Park Wharf. Come down and enjoy this exciting little market with local foods and crafts from around the Puget Sound region. Meet farmers and artisan food producers and enjoy a gourmet lunch. LEARN MORE >>
---
Come Along for the Ride!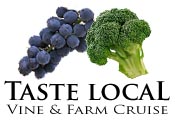 What a great way to sample locally grown foods and wine! Enjoy the scenery and classic maritime culture as you learn about savory local treats while leisurely cruising local waters! LEARN MORE >>