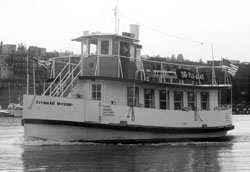 The 50' Fremont Avenue is a modern rendition of a traditional passenger steamer. She was built to caring 48 passengers. Operated by Seattle Ferry Service, this working vessel is frequently active on Lake Union and Lake Washington conducting sight seeing excursions.

The Fremont Avenue is participating in the Lake Union Park Floating market by transporting farmers from Ballard to South Lake Union where their goods will be transfered to the decks of the Virginia V.

The Fremont Avenue was built in Escanaba, Michigan in 1985. After serving a decade and a half on the Mississippi River, she was trucked out to Seattle.
Historical Significance
The Fremont Avenue is included in our affiliate vessel membership. Although not a heritage vessel, the Fremont Avenue is performing a traditional task by transporting farmers to and from the market via water as it was done a century ago. She is also configured in the same fashion as early vessels of her class.
Visit http://www.seattleferryservice.com/ web site