FarmBoat Youth Adventures
Teaching kids healthy eating habits is a fundamental goal of FarmBoat. Associating learning activities with unique experiences builds stronger memory retention. Knowledge about the effects and benefits of healthy food choices is perhaps the most enduring gift a child could receive. Our goal is to inspire children to eat healthy and develop a lifelong habit for seeking knowledge about what they eat and how it effects their lives.
By combining fun experiences with the subject of healthy food, we create an associative learning experience linked to exciting and unique memories. The world out on the sea is far different from land. Children find fascination with environments that are different than what they typically experience on a day to day basis. FarmBoat Youth Adventures are designed to build fascination for healthy local food while intrigue is at its peek.
Youth Mentorship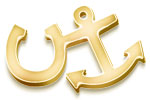 A key part of our program will be the integration of youth mentorship. Kids often learn from other kids more readily than adults. By mixing healthy, active peers with our youth guests, they will learn by example and see first hand the benefits of eating healthy foods. Our "Lucky Anchor" youth mentors will have the opportunity to provide a valuable community service, win awards and possible scholarships in the fields of nutritional education and health sciences.
This program is currently in the development stages as we establish partnerships with key organizations focused on youth learning. We invite your questions, comments and suggestions. Please contact us for more information.