Lunch on the Bay
An exquisite way to enjoy a meal
What can be more fun and relaxing than enjoying your lunch out on the water away from the hustle and bustle ashore? Buy your lunch at the floating market and depart on an old-fashioned mini excursion.
A century ago at the local ports towns, lunch time was an important time to get out on the water and relax. Most waterfront communities around the region had boat houses and liveries where people could rent canoes, row boats and sail boats, or depart on a leisurely motor boat or steam launch excursion.
It was always known back then that good food was important, but they also recognized that leisure time was just as important for a healthy mind.
Lake Union Park Floating Market Lunch on the Bay Options:
1. Board the Fremont Avenue and go on a half hour sight seeing trip around Lake Union. Just enough time to munch down and marvel at the beautiful views of the city skyline and floating homes.
2. Rent an antique rowboat from the Center for Wooden Boats only steps away from the floating market. Enjoy the ultimate tranquility of leisurely rowing out away from shore to dine in your own private oasis.
Check Pricing and Details at Their Web Sites: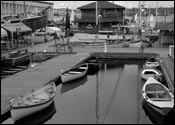 Center for Wooden Boats - Has the largest antique small boat livery in the Pacific Northwest. Located at South Lake Union Park in Seattle, the organization shares maritime heritage and offers experiential activities from rowing and sailing to nautical classes for the young and young at heart. LEARN MORE >>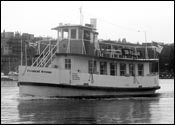 Fremont Avenue -Styled upon the lines of the classic steamers, the Fremont Avenue is a modern rendition of the historic passenger and freight boats that travelled Puget Sound a century ago. LEARN MORE >>
Check Here for Market Schedule: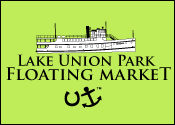 The Lake Union Park Floating Market will be held on Thursdays from 11-3 PM at the Lake Union Park Wharf. Come down and enjoy this exciting little market with local foods and crafts from around the Puget Sound region. Meet farmers and artisan food producers and enjoy a gourmet lunch. LEARN MORE >>