Local Foods
Holiday Gift Crates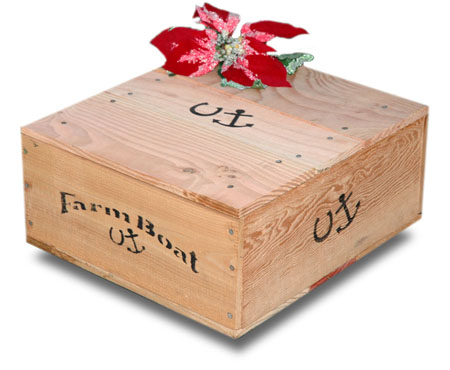 Our holiday gift crates are packed with wholesome local produce, artisan crafted foods and luscious local wines. "Giving local" supports local businesses and helps build a vibrant local economy. Local gifts tell others you care about them, and you care about our community.
Our sturdy and reusable old-fashioned crating is sure to be a collectors item. These rustic hand-nailed wooden crates are made from local timber just like they were a century ago. Gift crates are available with corrugated overpacks for shipping easy shipping.
We offer free personal delivery to most offices in the Seattle area for orders of three or more gift crates.
Proceeds help preserve Puget Sound maritime heritage and our efforts to link local farmers and consumers by water. Transport by water relieves congestion on highways and provides local economic opportunities for small businesses. It was how most goods were delivered around Puget Sound a century ago. Your purchase helps us restore the past and inspire new ideas for the future.