Chef Partner Wanted for Taco Boat
(Lake Union Park Seattle)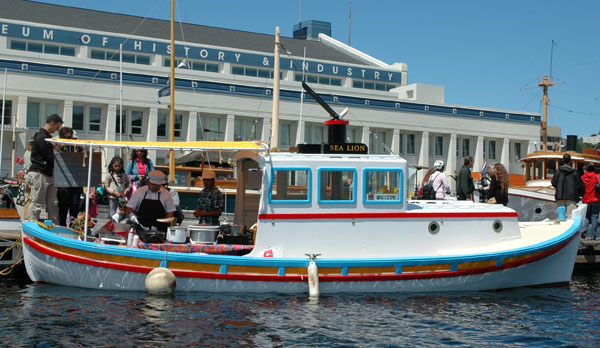 Unique opportunity for entrepreneurial person who is interesting in expanding their culinary/catering interests in downtown Seattle on-board a fully outfitted FISH TACO boat at South Lake Union Park and other waterfront venues.
We are looking for a reliable person who can cook and serve fish tacos from the boat to people on the dock. You must have an outgoing and cheerful personality, a willingness to work hard, verifiable cooking experience, King County health card and a positive attitude.
You will need to have your own business license and ability to buy vendor insurance (about $100 per month) and mobile food unit operator permit (required King County Health Dept plan paperwork and commissary agreements have already been arranged). You will simply pay a percentage of the food sales for rent of the boat and the location. This is a turnkey situation for the right person who is willing to show up and work. We will also provide marketing, signage, public outreach, and web site (Seataco.com).
We also have a great sponsor who will provide a commercial kitchen (requred for all mobile food operations) along with ready-to-cook fish and vegetables at very reasonable rates.
We can't tell you how much you will make, but it would be reasonable to assume that you could sell $300 to $1,000 or more per day at a decent margin if you are willing to work hard and be outgoing and friendly at the same time.
FarmBoat puts historic boats back to work while sharing healthy local food discoveries and maritime heritage. We completed restoration of this traditional wooden fishing boat this year and outfitted it with the basic equipment needed for operating a floating concession stand.
Lake Union Park is Seattle's newest park and will soon be the home of the relocated Museum of History and Industry. Hundreds of millions of dollars have recently been spent to renovate Seattle's South Lake Union neighborhood into a thriving and affluent tech corridor where thousands of employees seek culinary delights every day. The "Taco Boat" is sure to become a unique Seattle attraction.
Please send your background info and tell us why you think you would like to become the next star chef on the Seattle food scene.
We may possibly keep the boat near Lake Union Park, or you may have to drive it in from Ballard each day. If the latter, you will need to show that you have adiquate experience in opperating a boat.
Please, serious inquiries only. If you do not live in or near Seattle, the hidious commute will put you at a great disadvantage to those who live nearby. We are only interested in individuals that are willing to cook fish tacos at this time. The boat is not set up for offering a broad range of meals. If fish tacos and historic boats are not your thing, then this will not work for you.
For more information and photos, please see the web site at: Seataco.com
---