Future Seattle Waterfront Floating Market?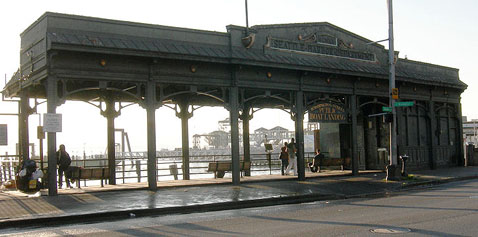 FarmBoat is investigating the possibility of organizing a floating market along the Seattle waterfront. The ideal location might be at the historic Washington Street Landing near Pioneer Square provided that the site is restored for public maritime activities. This landing previously had a public floating dock for many decades up until the late 1990's. The dock provided small craft access to Elliot Bay for nearby residents and visitors.
FarmBoat needs a protected harbor to safely operate a dockside market. We are working on the development of a proposal for such a facility. Please see: Washington Street Landing & Boat Harbor Proposal.
The Washington Street Landing is located near the site of the old Yesler Sawmill and Colman Steamship Dock. Back in the 1880s, this area of the city was the birthplace for recreational boating activities in Seattle. Other locations for the waterfront Floating Market such as Bell Harbor and some private docks are being considered as well. However, proximity to the historic Pioneer Square area is most preferred due to its residential population, a need for fresh local produce, its historic character and traditional connection with maritime activities.
Upon completion of the Seawall repair and Alaskan Way Viaduct Replacement Project, the city will take control of a significant portion of the waterfront around the Washington Street Landing. There will eventually be enough space to create a small boat harbor.
A colorful and nostalgic maritime floating market on the Seattle waterfront will add valuable intrinsic appeal and attract more visitors--providing human-scale activities that build a connection with Puget Sound.