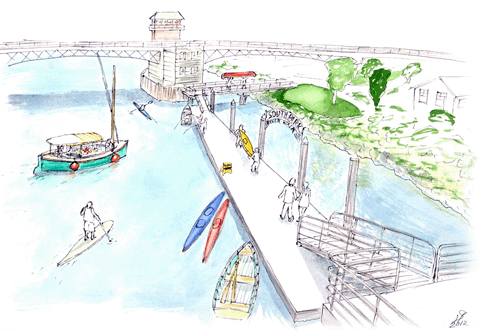 Click Here to Enlarge Image!
South Park Public River Walk Proposal
- A Potential Future Location for the
FarmBoat South Park Floating Market
FarmBoat is studying the possibility of establishing a floating market in the South Park neighborhood located on the banks of the Duwamish River at the of edge of Seattle's industrial district. However, the community is lacking adequate facilities that provide convenient public access to the Duwamish waterway.
South Park is a geographically unique and culturally diverse community consisting of a mix of industrial and residential zones with a half-mile stretch of the Duwamish River bank hosting modest waterfront homes. South Park has an historic maritime and agricultural heritage with many single family residential structures dating back to the turn of the last century.
South Park was settled as a farming community in the mid 1800's. Farmers delivered fresh produce to Seattle by row boats, scows and steamboats. The fertile farmlands around South Park were among the first agricultural sites on Puget Sound--providing sustenance for Seattle's earliest settlers.
Countless landings once existed along the river banks allowing farmers to more easily load boats headed for market. Landings were often nothing more than simple plank docks and log floats spanning the muddy banks at the rivers edge. However, without these landings, the farms and rural communities along the Duwamish would not have flourished.
Today, South Park is a community in need of revitalization. It has an underutilized asset that can help transform it from an impoverished backwater to a vibrant waterfront community. The Duwamish River is a navigable marine waterway maintained by the US Army Corp of Engineers. South Park has several undeveloped public right-of-way properties bordering the river.
The purpose of this proposal is to suggest an initiative that would inspire the installation of a public waterfront landing along the western shore of the Duwamish River. One such potential location would be between the street ends of South Southern Street and South Rose Street. In this scenario, the project could have two phases. Phase 1: Construct a floating dock running parallel along the river bank with an egress ramp at S. Southern St. Upon completion of the new 14th St. Draw Bridge, phase 2 can include an extension of the floating dock and egress ramp at S. Rose St. next to the bridge. The result would be a floating river walkway where residents can enjoy extensive views up and down the river, fish for salmon and trout, launch kayaks, load into small boats and have access to weekly fresh produce deliveries by water.
Many Puget Sound communities in recent years have improved intrinsic public value by adding waterfront promenades and walkways along their shorelines. The communities of Poulsbo, Fairhaven, Port Townsend, Tacoma, Bremerton, and Renton are noteworthy examples.
Why it is Important to Connect South Park Residents with the Duwamish River
In recent years, extensive work has been accomplished by various environmental groups to clean up and reclaim the Duwamish River from decades of heavy industrial use. However, without broad-based community support, runoff pollutants will continue to flow from the driveways and trash deposits of the adjoining neighborhoods. Long-term local stewardship cannot be achieved without providing a means for public use and enjoyment.
The South Park River Walk will provide a place to connect the community with the Duwamish River and offer a wide range of interactive water-centric experiences. With a modest waterfront public connection, South Park can be transformed from a faceless urban hood to a vibrant waterfront community that will inspire cost effective long-term environmental stewardship and value to the City of Seattle.
Phase 1 Concept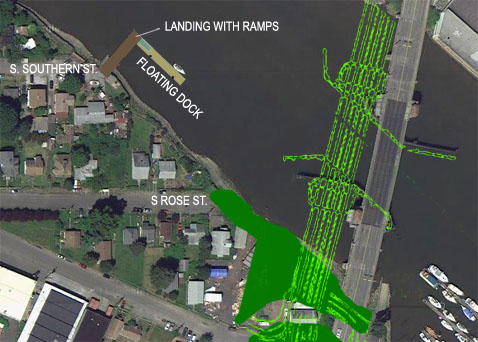 Phase 2 Concept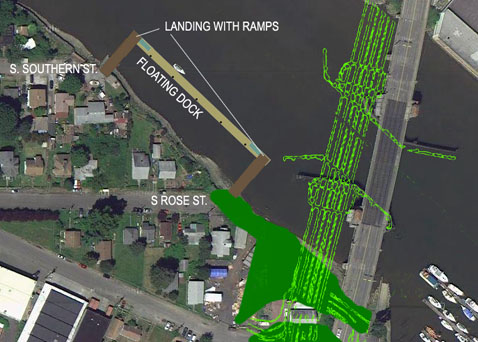 South Park History Photos