It has been almost two years since FarmBoat was wrongly accused of failing to garnish wages of a scofflaw parking offender it never employed. The bureaucratic bullying left FarmBoat and other UPWA programs dead in the water. Thousands of hours have been spent in attempts to set the record straight, yet FarmBoat and its founders remain in jeopardy of potential future liabilities and fines related to the false employment accusations.
UPWA board members ask; "When will the nightmare end?" FarmBoat was an enjoyable and popular free public attraction that shared maritime heritage and connections to independent local food providers. What could have been wrong with that?.
Learn how Seattle's new tyrannical bureaucracy is destroying a great city... Read More>>
---
Oppressive Legal Actions Block Access To Healthy Foods & Maritime Heritage
The popular FarmBoat Floating Market at Lake Union Park was forced to close in July, 2013 over an abuse of power that resulted in ten months of crippling legal actions as punishment for exposing illegal government fund raising activity.
In the middle of the winter dormant season, City of Seattle debt collectors demanded FarmBoat garnish wages of a non-existant employee (a person that was actually an independent farmer's market merchant who sold vegetables during the 2012 market season). The merchant had accumulated over $8,000 in parking ticket debts with the City many years earlier and was long gone when the City's lawyers came after FarmBoat with false accusations of employment.
The farm merchant's parking debts had nothing to do with FarmBoat, but the City's collection authorities were determined to force FarmBoat founders to pay the debts as if they were an employer who refused to garnish wages. No factual evidence was ever used to support the intentionally falsified court documents that asserted "FarmBoat" was the debtor's permanent year-round employer. As matter of fact, nothing more than Facebook connections were used to enforce the lawless heavy-handed sanctions--in violation of at least a dozen state and federal statutes.
Seattle Municipal Court officials effectively put an embargo on local farm goods brought into the City by sea. The siege on finances terminated FarmBoat's cross-sound trade route with Kitsap Peninsula Farms as well as quashing plans for other over-water farm links.
The situation is an extreme overreach of judicial process. The City of Seattle had essentially misused the law to block FarmBoat with a frivolous wage garnishment lawsuit in an attempt to force payment of someone else's debts and to make a public example of the Court's ability to go beyond the law in the punishment of vehicular infractions. Debt collectors call it "Parasitic recovery". Others call it outrageous injustice and financial terrorism.
FarmBoat uncovered an illegal government revenue raising scheme that could burden event producers with new risks. According to the Washington State Attorney General's Office, this is the first time they had known of a situation where an employee garnishment collection action was brought against a farmer's market to collect from a merchant. "It would be like trying to force a landlord to garnish from a past tenant--it's a ridiculous notion."
The Freedom Foundation, an organization that fights government oppression against individuals and small businesses, stepped into the fight in October against the City of Seattle--blasting officials with questions about misdirected bureaucracy. "There is nothing in the Constitution that allows the government to just take money from individuals without legal cause."

Kiro Radio's Andrew Walsh Interviews Captain Dave
Click Here and Listen to the Show!

"How could a floating farmers' market get shut down over too many parking tickets?
An "only in Seattle" kind of story"
See what readers say: "The City should be ashamed of its role in this extortion racket"
Seattle Times Follow-up - "It's not over yet"
So Far, No Resolution from the City...
Read the Latest Letter:
from the Freedom Foundation to The City of Seattle
Court Actions Finally Stop
– But Will They Pay?...
Read about it in the FarmBoat blog: Click Here
City Denies Damages...
Claims Facebook Friends are Employees
Officials Punish FarmBoat for Whistleblowing
There is no doubt a deliberate and exceptional effort was made to stop the FarmBoat Floating Market program and punish its founders with extreme sanctions for nothing more than a fictitious claim of employing a delinquent parking offender. No other Farmer's market in the State has been arbitrarily accused and frivolously sued for employing independent merchants.
When FarmBoat complained that the City had no legal authority to extract money from businesses without due process and supporting evidence, retaliatory actions began. The acts against FarmBoat were highly discriminatory, unprecedented and not supported by any current law.
Whistleblowing: What is it that officials don't want people to know? Thousands of garnishment orders are frivolously issued against local businesses in an effort to illegally offset the Seattle Court's due diligence costs with the added benefit of potentially collecting small amounts of money from unsuspecting businesses--it is often cheaper for wrongly accused businesses to pay the typical few-hundred dollar fee than to hire a lawyer. FarmBoat happened to be faced with an exceptionally large and unusual employer claim.
The FarmBoat situation has exposed a potential mass fraud that may be occurring throughout Washington and other states. It is not legal for the government to arbitrarily shakedown businesses without adequate evidence or due process.
What the Heck Was All this About Anyway?
Since it was just a nonprofit community event, many have been left scratching their heads as to why the City of Seattle continues efforts to block the FarmBoat Floating Market. Insiders allege that Amazon corporate security officials were concerned that the Floating Market at Lake Union Park could draw Amazon employees off campus and outside of the company's omnipresent security zone. Amazon has spared no expense in creating a live-work environment at the company's massive South Lake Union campus including several restaurants and a newly launched competing farmer's market that strategically opened a half hour before the FarmBoat Floating Market.
City of Seattle bureaucrats are reportedly banking heavily on Amazon and will do just about anything to keep Amazon officials happy--including "bending the law" to stave off even the slightest hint of distraction. City revenue agents believed that it was "unfair" for FarmBoat to be selling goods only a few blocks away from the online retail giant's corporate headquarters.
Help Preserve First Amendment Rights!
It is unconstitutional for government agencies to sanction people for freely associating with others. Event producers cannot be held liable for the debts of people they don't employ. City of Seattle debt collectors are claiming that Facebook and other social media can be used as proof of employment to arbitrarily shakedown people who are only socially connected with debtors.
FarmBoat was attacked and put under economic siege in an attempt to collect a debt that was fictitiously created through social Facebook postings. First Amendment rights of free association were violated when City officials arbitrarily targeted FarmBoat founders for allowing a scofflaw parking ticket debtor to sell goods at the FarmBoat Floating Market.
Seattle Facebook Users Beware!
Aggressive "Get Tough" City policy means anyone can now be falsely named as an employer and sued for the parking ticket debts of Facebook friends. Event participants, club members, social groups, nonprofit volunteers, clients and business associates, or anyone else who can be fingered as a connection to you can be "reasonably suspected" of being your employee--regardless of whether on not you have ever had a payroll. Is this really legal? NO. It is not legal to sue people without factual evidence. While Washington State garnishment laws require a basis of fact, the Seattle Municipal Court is enhancing ticket revenues by allowing "friends of debtors" to be sued purely on emotional suspicion. Read More...>>
WHAT YOU CAN DO TO HELP:
1.) Call the Mayor's office and demand that the City of Seattle Municipal Court stop abusive collection actions against people and businesses who don't owe money.
(Mayor Ed Murray's phone: 206-684-4000
or eMail:Ed.Murray@seattle.gov)
2.) Sign the Petition to abolish Seattle Court parking ticket garnishments at CurbTheAbuse.org All your small business friends will thank you.
3.) Call the Washington State Attorney General and tell them you don't want unfair business practices to destroy farmer's markets. It's against the law!
4.) Spread the word: link to us, facebook us, follow us on twitter and join our newsletter.
Tell the City of Seattle to STOP Abuse of Power against people who don't owe the money! It's Unfair and Illegal.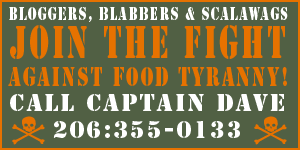 email Captain Dave at CaptainDave@farmboat.org!