Future Delivery Routes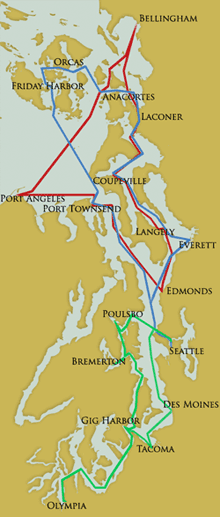 FarmBoat plans to establish regular weekly trade routes between ports of call around the Northwest. Each primary farm delivery boat will visit one port per day transporting passengers and cargo. Generally, routes will be planned so that there is a leisurely three hour passage between each port--making it easy for adventure travelers to accompany the boats.
Our vision is that three primary farm delivery vessels will eventually serve on trade routes between Orcas, Lopez, Friday Harbor, Bellingham, Anacortes, La Conner, Coupeville, Langely, Port Townsend, Port Angeles, Poulsbo, Everett, Edmonds, Port Orchard, Bremerton, Seattle, Des Moines, Tacoma, Gig Harbor, and Olympia.
Other feeder routes may also be developed to accommodate the abilities of specific maritime organizations and the needs of smaller communities.