History of Floating Markets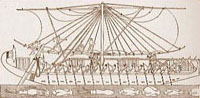 Boats have been used for thousands of years throughout the world to efficiently delivery goods from farm to market. The ancient Egyptians, Greeks and Romans commonly traded farm goods on the Mediterranean. The cities of Europe flourished where agricultural products could easily be moved from farm to market along canals and rivers by boat.
Before the advent of trucks, refrigerated warehouses and grocery stores, people frequently greeted their food providers at the dock to negotiate on their daily sustenance. Dockside market activity was once a common sight at almost any port in the world.
The communities along Puget Sound were no exception. The fertile islands and fishing grounds around the Northwest produced bountiful harvests. Strawberries from Bainbridge, hops from Vashon, cattle from San Juan--all transported by boat to the docks of neighboring communities.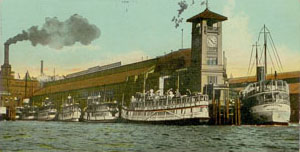 Every waterfront community had a public wharf where everything happened. In the early days, there were no roads, bridges or phones so this wooden platform was the center of activity for most small towns.
Learn More About Farm Boats on Puget Sound>>
Farm Boats Around the World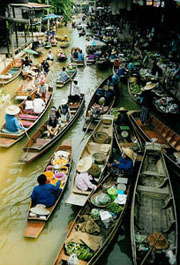 Some regions of the world have maintained these traditions. Perhaps the most famous floating market is the one in Damnoen Saduak near Bangkock. Farmers still paddle their produce in wooden canoes from the fields outside the city to the crowded markets along the ancient canals. This floating market has become a major tourist attraction for Thailand in recent years.
The most relevant comparative example we have found of a farm boat operation thus far in our research is a small vessel working the coast of maine. The "Market Boat" as described in a article published by Maine Boats, Homes and Harbors Magazine delivers fresh produce to island communities on a regular schedule. The following photos are posted with permision from photographer Lynn Karlin of Maine: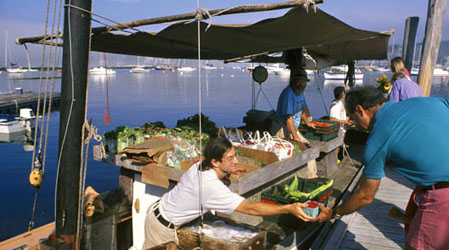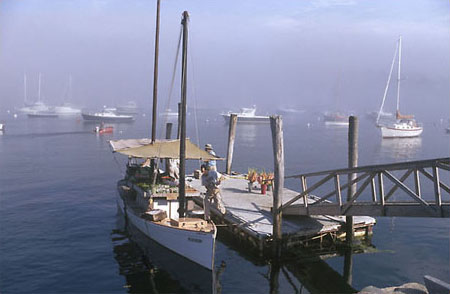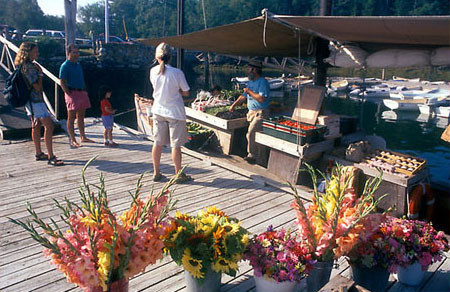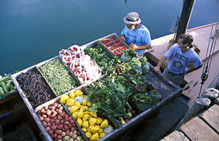 photos by Lynn Karin