UPDATE: Due to the relentless efforts of some City of Seattle bureaucrats, the restoration of the F/V Olympic has been cancelled.
Help Us Restore the Historic
Fishing Schooner "Olympic" and
Re-Connect Puget Sound Farms
We are working to raise funds to complete the restoration of a century-old artifact from Seattle's illustrious past. The Olympic will be used to develop a sustainable alternative food route on Puget Sound--delivering fresh farm goods to the City of Seattle like it was done a century ago. The Olympic will also be used to share historic maritime experiences with adventurous travelers and dockside visitors.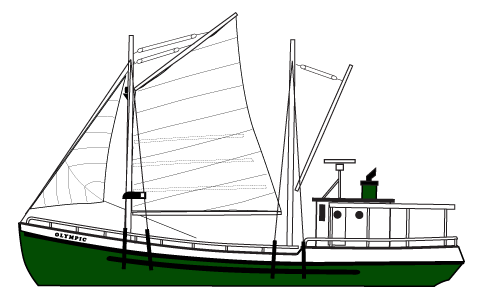 Proposed configuration includes sail rig for
"motor assist sailing" and aft deck canopy.
The Olympic is planned to be the FarmBoat flagship running a weekly route between nearby ports like Poulsbo, Port Townsend, Coupeville, La Conner and Seattle. Fresh produce will be loaded aboard and displayed on deck for open markets throughout the summer months.
After many months of tedious work, the Olympic is now in operational condition. With a new engine and electrical systems along with all new refastening and corking, she is getting close to being ready to once again perform a valuable service. The money we raise through Promotional Sponsorships from organizations and Bike & Sail Travel Vouchers from individuals will be used to buy materials to finish up the boat.
About the Halibut Schooner "Olympic"
The Olympic was launched in 1911 at the foot of 28th Street in Ballard, Washington. Substantial restoration work has been done to the hull including plank replacement, complete refastening and re-corking below the waterline. Plans for continued restoration of the crews quarters, bulwarks and deck house are underway. The Olympic will be restored to her original rigging configuration.
The Olympic is one of the oldest West Coast halibut schooners remaining. With her prominent early Scandinavian lines, offset wheel house and dory deck, the Olympic is a testament to substantive maritime industry that has flourished in the northwest for more than a century.
With a 20' x 16' 10 ton hold, the 65' Olympic is an ideal farm boat. She will be able to carry a weeks worth of CSA deliveries with plenty of room to spare for crew and activities.
FarmBoat is in search of a maritime organization who can adopt and manage the Olympic. Once found, FarmBoat will assist in the development of a sustainable program and help with with fund raising, route planing, port negotiations and promotion. This could be a great opportunity for a maritime heritage organization seeking to create a highly visible an outreach program throughout the Northern Puget Sound region.